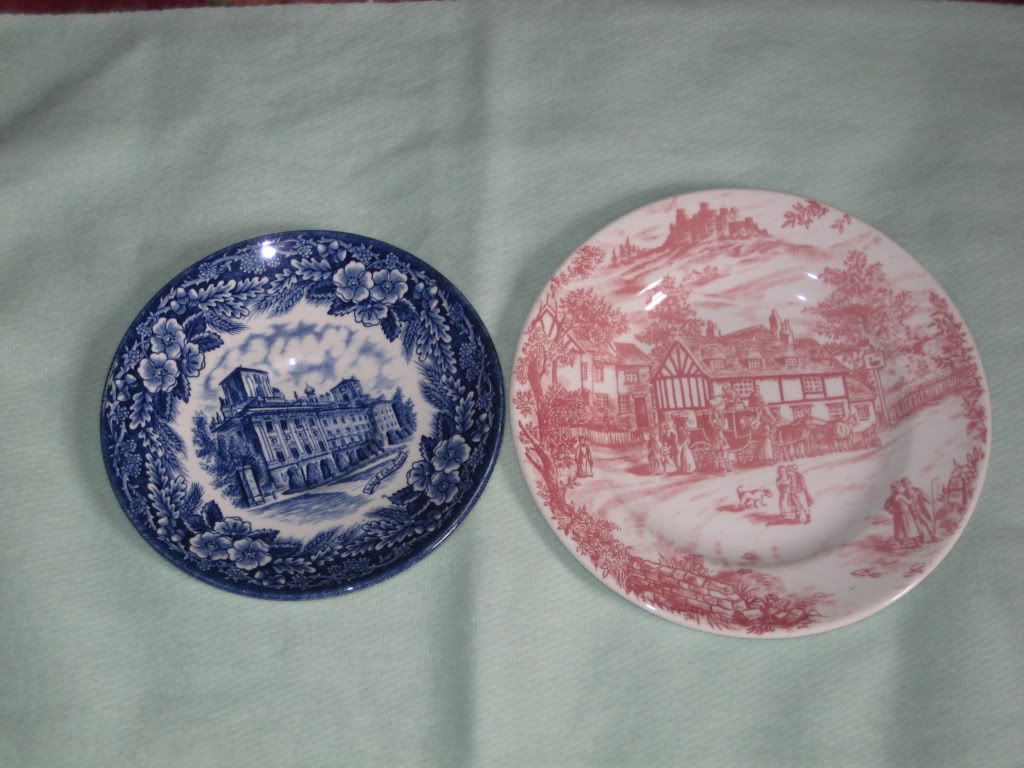 I am very blessed to have two very separate and yet very precious groups of friends. I often mention the small circle of girlfriends that are inclined to weekends away and seeing movies together. These women are indeed precious in my life and I would hate to think what life would be like without them. I also have some very amazing and special friends at school. Fellow mum's with whom I spend Friday mornings over a cuppa and enjoy the occasional lunch together. We have laughed together and cried on each other's shoulder and chatted about the things that give us joy ... and the things that frustrate us.
I bumped into one of my 'school friends' the other day in Safeway and she mentioned that she'd bought me something and she'd bring it to school with her one day. Well, today was that day. She was at a market, I believe, and remembered my desire to have a collection of beautiful, mismatched plates and bought me these two. I was overjoyed! What a beautiful spontaneous gift. It meant so much to me, that she remembered such a trivial little thing and acted on it.
Thank you Jodie. You're are an amazing woman and I'm so privileged to be able to call you 'friend'.
* * * * * * * * * * *

Today is Dh's birthday...yes, quite the celebration month in our house! The best way I could think of to celebrate was to choose a recipe from 'Maggie's Harvest' and make him a special dinner.

I chose 'Stuffed Roast Chicken'....bacon, onion, fresh herbs and fresh breadcrumbs with a squeeze of lemon and a spoonful of zest. It bakes as I type. I can't wait to try it.

There you have it ~ I've taken the Maggie-plunge. The roasted capsicum with goats cheese was tempting, but I will have to save that for lunching with special friends who appreciate such delicacies!