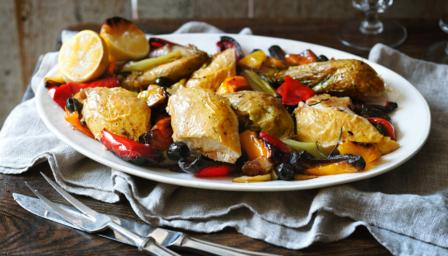 In Nigella's 'Express' series she has an episode entitled "Quick, Quick, Slow". Indeed there a chapter in the book so named. And her theory about a little bit of preparation effort and walking away while the food cooks slowly for a while is quite sound. With dinner plans turned upside down and my early evening hours spent traipsing after children unexpectedly I needed to rethink when all the cooking I needed to do for today would happen. I arrived home by 8.15pm and got the above Italian Chicken recipe going. A recipe of super quick preparation time and then just letting it roast for an hour and a half. I will take some for lunch today as I have a Uni thing all day. While that was roasting I made sausage rolls to take to a family event for Mr Busy's class for dinner tonight. Maggie Beer's sour cream pastry and my trusty filling of sausage mince, carrot, spring onion and egg means it's very simple but satisfyingly tasty. By the time I went to bed my chook had been dismembered and mixed with the vegetables and the sausage rolls cooled and placed in a baking dish so it can be reheated before leaving tonight. Today will go much more smoothly with all of that slow kitchen pottering done!
My pre-Costco freezer emptying mission was successful and it is now refilled, though not quite to overflowing. The best deal I got was $10 off each two-pack of whole chooks. That meant I paid only $5 for each bird. Not just any chooks either - Lilydale Free Range. Ohhhhh yes! We are in for some good chicken, people!
Finally, Frances asked about the difference between an American-style hamburger and an Aussie-style one. I think most Aussies will tell you there's a huge difference. When I was googling for recipes and ideas I found that most American-style burgers had lettuce, tomato slices, melted cheese and mustard. An Aussie burger, in comparison would have tomato sauce instead of mustard, and it would be fully decked out with all of those fillings as well as pineapple, egg, beetroot and cooked onion. In any case the recipe I ended up using for the meat patties was a real winner which surprisingly didn't have any onion in it. And the kids insisted on pineapple. Not so American after all I suppose!