Hey, you'll never guess what! Yep. My camera has lived on the bench for the last few days and I've remembered to take a quick photo before the food has disappeared! So I know you're wondering what 'colourful' looks like in our house, after my post yesterday. Actually, you probably don't care. Sorry...you're stuck with this post anyway.
On Monday I was lamenting the fact that I'd not gotten a photo of dinner. I later remembered the leftovers I'd tucked away for lunch and snapped a photo of that instead. Below is my version of
Honey Soy Chicken (drumsticks in this case), with stir fried vegies and basmati rice
. I used the chicken pan juices over the rice and vegies. (This was Sunday night's dinner, actually).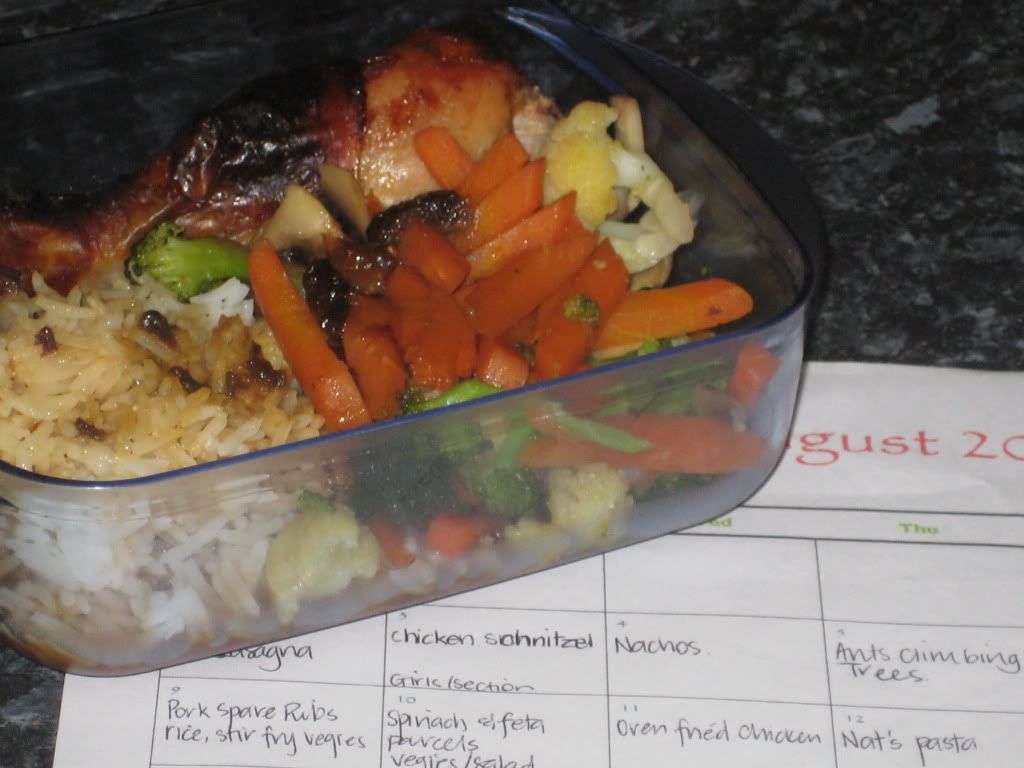 On Monday night I stayed after school to help out the Prep teacher prepare her room for Preschool visits. This was the perfect no-time-to-cook meal.
Nachos
~ over the top we had grated cheese, diced fresh tomatoes, mashed avocado, sour cream and lettuce.
Tonight it was
Chicken Schnitzel and Vegies
. We were out and about at the time I would normally cook, so in the time we were home between school and dashing out I prepared all the vegies ready for cooking. When I got home at 6pm we were only the 20 minutes of cooking time away from eating. I made sure I cooked enough vegies for lunch tomorrow. Toasted sandwiches just aren't cutting it at the moment. But vegies are doing me pretty well.