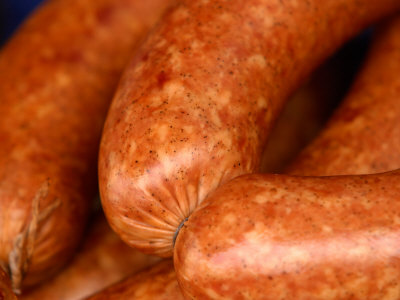 One of the teachers I work with wondered aloud, the other day, about what else she could possibly do with sausages. I was given a casserole recipe a long time ago. I enjoy it, but no one else in my family seems to care too much for it. Every now and then we come across this stalemate and I give in. However, someone else might very well enjoy the meal, so I'm sharing it.
500g sausages
1 onion, chopped or sliced
2 tablespoons flour
1 tablespoon brown sugar
2 tablespoons worcestershir sauce
1 tablespoon tomato sauce
1 tablespoon vinegar
2 cups boiling water
salt and pepper to taste
Boil th sausages, cool, and skin. Chop into 2cm chuncks and place in casserole dish with onion.
Mix dry ingredients, then add wet, except for water and mix into a paste.
Slowly add boiling water, stirring to ensure no lumps form.
Pour over sasuages and bake for an hour (180C/350F)
Varitions:
Add apple or mushroom. Omit worcestershire sauce and add 1 teaspoon curry powder.
Add vegetables to original recipe: beans, carrots, celery or parsnip.
The person from whom I received this recipe puts sliced green beans and matchstick carrots into the original recipe and cooks it for one and half hours.