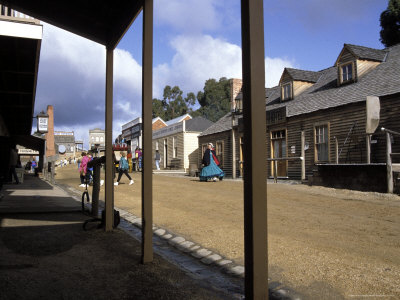 The main street of Sovereign Hill
We enjoyed a bit of an end of term celebration of studying 'Australia Getting Started' today. A bit of dressing up along with damper cooked in our fire trench, homemade lemonade and kangaroo stew made the day what is was.
I adore almost all things old fashioned. I think it is what drives my love of Amish fiction and my determined commitment to things like cooking a proper meal each night. The fact that men and women knew what their roles were and fulfilled them to the best of their ability and with a sense of pride appeals to me. I don't doubt for a moment that the lives of people 250 years ago was busy. And hard. But busy and hard in a different way to what we experience now. Busy and hard in a way that brings satisfaction at the end of the day rather than wondering where on earth your time disappeared to.
Often over the years I have wondered if I was born in the wrong era. Long dresses and lace call to me in a way that would be inappropriately over the top to indulge in, these days....and somewhat impractical on many occasions. I've often wondered what my life might have looked like had I been born 250 years ago, in the early years of Australia's history. While my great-grandmother used to tell us that "there was nothing good about the 'good ol' days, they were just jolly hard work", I'm sure there was something to recommend it. I wonder would I have been the one who got her washing on the line first....or would I have been amongst the last? Would I have managed to get the hang of cooking in a wood stove? Would I have ever been wealthy enough to have travelled beyond the local township. And even if I could have, would I have wanted to?
So many questions that will never be answered. But I think perhaps it is possible to capture just a little olde world-ness. What I do can still be done to the best of my ability, with pride in the doing of a good job. I
can
dress in a way that feels ladylike. Indeed I have these odd clothing rules in my head ~ like no jeans at work or church, even though it is a common choice amongst many others, and one that is perfectly OK (to me) on someone else. And I can choose solid old-fashioned morals and values that come from a time when the Bible was the authority on how one should live.