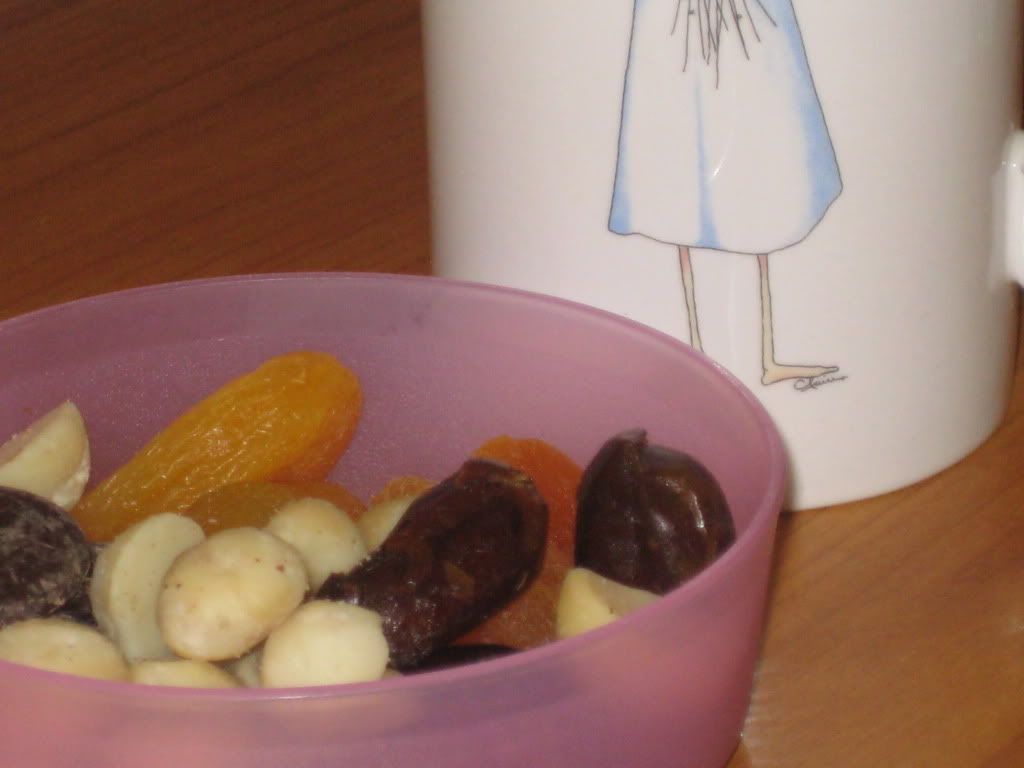 Thought I'd show you my current favourite snack to eat.
I was inspired, after reading 'The Flat Belly Diet', to change a few little things in my diet. Don't get me wrong, I eat pretty healthily. But the book talked a lot about mono-unsaturated fatty acids and the importance of including them at every meal. We're talking about things like avocados, olives, nuts & seeds, olive oil and dark chocolate.
"What changes did you make?" I hear you ask. I don't manage to add these things to every meal, but it's all been rather simple, for the most part. A sprinkle of sunflower & pumpkin seeds on my yoghurt in the morning, as well as some sultanas makes a welcome addition. I eat plain Greek yoghurt, so I'm enjoying the crunch and sweetness. Avocado & sliced kalamata olives on toast is really yummy for lunch. Especially if you have some roasted red capsicum and some baby boconcini to add to it.
The picture above shows you what I've been having for morning tea. A rather satisfying combination of almonds, macadamias (both unsalted), dried figs, dried apricots and a (very!) few dark chocolate buttons. And might I add, that the chocolate is best eaten in combination with the madacamias. To eat them with the apricots is far too much sweetness in one mouthful. Yes ~ it's true!
I don't know that these changes have made much difference to my belly. Seeds and nuts are good for you so I'm enjoying the addition. But really, I'm loving my morning tea!