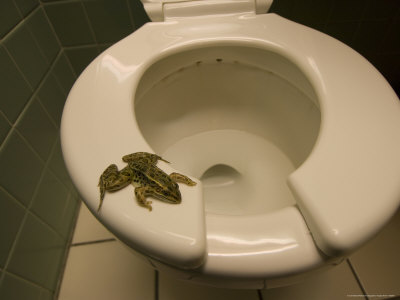 Cute frog huh! We had two very big first impressions when we arrived in Los Angeles a few weeks ago, now...neither of which included a frog! Plus another observation that came over time.
Our first: LA has serious smog! We stepped out of the airport terminal and were hit by the smell of car fumes....and my how those buses and cars wizzed by! Melbourne airport is sedate a cute compared to the massiveness of LAX!
Our Second: The toilets had waaaayyyy too much water in them. Our few days in the US were spent in LA and the constant lament was "Mum, I'm scared my hand will get wet!". So we analysed it.
I was keen for the kids to understand that 'different' doesn't mean 'not as good'. Australia doesn't do
everything
better than other countries. In this case, we came to the conclusion though, that in the case of toilets Aussie's do better. We use less water to flush and have the option of a half flush. Less water sits in the toilet bowl. You can do what you need to do without fear of getting your hands wet. And our toilets don't get clogged up so easily. Fortunately for us, the toilets in Colorado Springs were a little closer to what we were used to and so the bulk of our time was spent with children less distressed! They still got clogged up at the drop of a hat!
Our Third: Americans are a very generous people. In all the small kinds of ways ~ water on your table in a restaurant, great deals in terms of shopping (no Aussie company would give you two free pairs of shoes if you bought one pair!), people generally having an attitude of giving in the small things of life. In this regard, I reckon they have it over us in spades. Aussie's are great in a crisis, but Americans are way better with generosity in the day to day. Even on the roads they're way more polite!