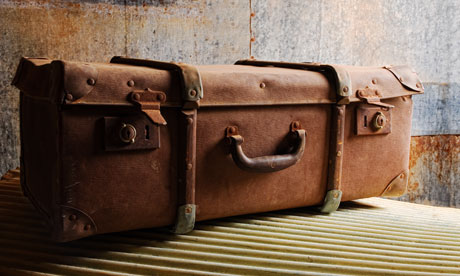 Our lastest conversation in preparation for our trip:
Dh: I think we could get away with one suitcase for both of us.
Me: NNNNOOOOOO!!!!!!
The last time we shared a suitcase was approximately 17 million years ago. Well...maybe just 17, without the million. But a long time. As I recall it, we were camping (in a tent) and it was torture. My side of the case was nice and neat and tidy. His side of the case looked like a bomb had gone off and it just spread across over my stuff. Every single time he went to the case I had to go back and tidy it up - for my own sanity, you understand, not because I was being all loving and serving or anything so virtuous. I vowed, then, that we would never share a case again.
Oddly, this mess thing only happens while travelling. At home his clothes are put away (not by me, in case that's what you're thinking. I'm not that nice) and it doesn't hit my radar as something to deal with, because it just isn't there.
Personally, I'd be content with my small case (a bit bigger than carry-on size) and he can take the case the next size up, for his shoes and the coffee he wants to take with us. I'm not so keen on making the smell of coffee my signature scent.
Do you share a suitcase with your spouse/partner when you travel? Why or why not?