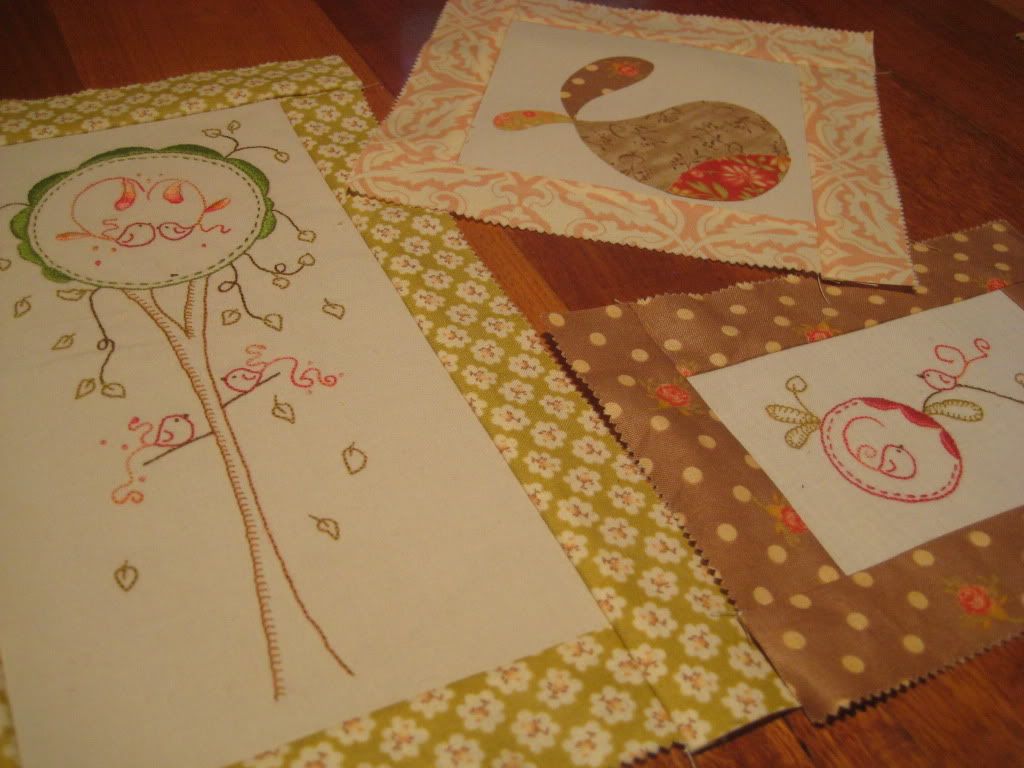 My tiring week ended with some therapeutic stitching on Friday evening. Slowly but surely my whimsical little birdies emerge from a tin of threads and a pink lines traced onto my fabric. I'm sorry the light isn't great. That's what you get for trying to take pics at night! I've yet to blanket stitch around the appliqued bird. Perhaps a task for this evening while Dh and I relax in front of the telly. In fact, I think that sounds like a marvellous idea!
Tail Feathers, Block 6
I also finished the blanket stitching on the previous block the other night. I'm tell you, on was on stitching fire! Now they both just need to be sewn together. I'm going to attempt to do that this week. I think it might be a good idea to prepare the next two blocks for stitching so that I don't have to get the machine out for a little while.
~ ~ ~ o o 0 o o ~ ~ ~
The Orientation Day I attended yesterday was amazing. I know a lot of the others there felt like their brains were being overloaded. For me, it was an extension of the Uni preparation and the online orientation information. I got to ask a few question and discovered that I am enrolled in one second-year subject because of the credit I received for my work last year. One of the most beneficial things was meeting my lecturer for one of my subjects. She's a straight-talking lady with an amusing sense of humour. I know I'm going to appreciate her all the more, having met her. I also, of course, got to meet some of the other 'local' students, although none live anywhere near me. But it will be nice to be able to picture others as we chat online.
One of the things I learned yesterday was where all the readings are being reserved on the library website. I've begun working my way through printing and reading those while I have no other tasks pressing for my attention.

PS. If you want a closer look at the photos, you can click on the pictures and then zoom in again from there.