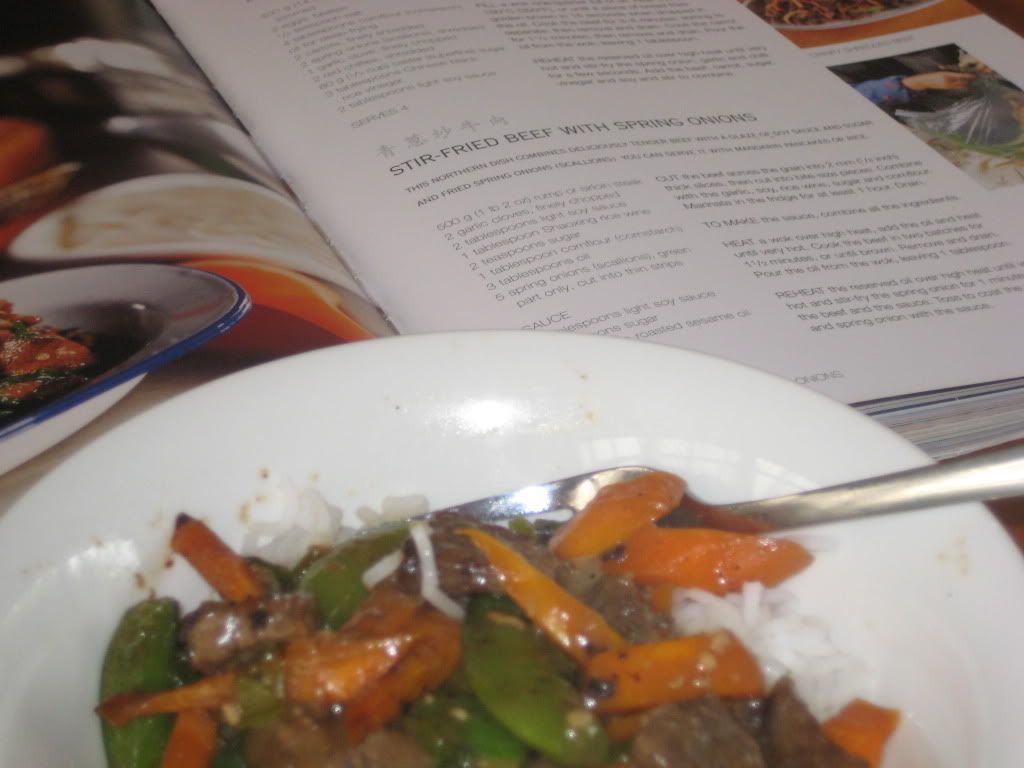 Last week I had a few requests for recipes with pictures. Hmmmm. I'm not normally good at last-minute-just-before-it-goes-to-the-table photography. I have too many hungry people hovering around the bench when I'm serving up. You've no idea of the pressure a Mum can be under 'til you've lived with my children. They've been known to ask "What's for dinner?" before they've even had breakfast! Leftovers, however, make a perfect photo opportunity. No pressure from hungry little people and plenty of time to think about what the photo might look like. None of that deer-in-the-headlights looking food when you can take your time.
I had planned something else for dinner last night. But a very impromptu BBQ at my BIL's the other night yielded some steak that wasn't cooked and needed using up. Well, the perfect thing to do with a small amount (less than 1/2 kg) is stir fry, so out came my
"The Food of China: A journey for food lovers"
book and there I found the perfect thing. Perfect, because I had everything I needed right at my fingertips, plus a few other ingredients to make it the colourful and nutritious meal we needed.
Beef with Spring Onions
500g rump or sirloin steak
2 garlic cloves, finely chopped
2 tablespoons light soy sauce
1 tablespoon Shaoxing rice wine (any white wine will do)
2 teaspoons sugar
1 tablespoon cornflour
3 tablespoons oil
5 spring onions, sliced
Sauce:
3 tablespoons light soy sauce
2 teaspoons sugar
1/2 teaspoon roasted sesame oil
Cut the beef across the grain into 2mm thic slices, then cut into bite-size pieces.
Combine the garlic, soy, rice wine, sugar and cornflour and add the meat.
Marinade for at least 1 hour.
To make the sauce, combine all the ingredients.
Heat a wok over high heat, add the oil and heat until very hot. Cook the beef in two batches for 1.5 minutes, or until brown. Remove and drain.
Pour the oil from the wok, leaving 1 tablespoon.
Reheat the reserved oil over high heat until very hot and stir-fry the spring onion for 1 minutes. Add the beef and the sauce. Toss to coat the meat and spring onion with the sauce.
Serves 6
As you can see from the picture, I added carrots and sugar snap peas (between step 6 and 7). The original recipe also says to drain the marinate and discard it. I poured the sauce into the bowl after I'd removed the meat and poured the marinade and sauce in together at step 7, plus a little extra water. You would miss out on so much flavour if you left out that extra marinade.
I'm very excited about next week's menu. The girls will both be cooking. Miss Mischief wants to learn how to cook a roast chicken. I smiled to myself and wrote it down. Really...the hardest thing is getting that chook out of its shrink wrapped packaging!