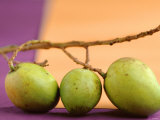 The kids and I did our holiday trek into Costco yesterday. I came home with a boot filled with all kinds of things, not the least of which was a box of calipso mangoes. They cost $1.28 each - much cheaper than the $3-$4 in my local Safeway. Nothing says summer or sunshine like a mango!
Miss Sunshine and are happily enjoying our way through them, one each per day. One of our favourite dinner salads on a hot day has mango in it so we're all set for tomorrow's forecast 39C (102F).
------------------------
I was chatting with a friend on Monday about the hypocrisy I live within, between my food values and what we actually eat. Don't get me wrong, we eat pretty well around here most of the time. We talked about the temptation of take away options when you're time poor and how we feel afterwards. I don't know about you, but I desperately need to organise myself a list of quick meals that use pantry or freezer ingredients so that I can have the things on hand at less than a moment's notice. I really don't enjoy take away. I feel awful after I've eaten it, not only physically, but then there's the whole guilt thing about how bad it is for you. Not to mention the spank you get on the scales the next morning! At the moment I think my tomato and bacon pasta or creamy pasta is at the top of the list. Either of those take no more than 20 minutes in the kitchen. After that? I'm not so sure I'm up with quick options!
Who's with me? What are your favourite fast, no effort meals made at home?